Tax Deductible Vacations, Free Medical, Great Jobs.
Whitehorse is a mini-metropolis with all the services and conveniences you want in a city with access to the greatest outdoor scene in Canada.
Whether you're looking for a place to grow a family or to retire, Whitehorse has everything you need and more for a great life. Want to learn more? Read on to learn all the best things about living in the Yukon!
1. No Sales Tax
The Yukon does not have a Territorial Tax. Only the GST is applied to the goods and services you buy. Consider the saving on a new vehicle or going out for lunch with only GST being charged.
2. Free Medical
Yukon Health Care Insurance is free, with no monthly fees for medical coverage. Whitehorse General Hospital has low wait times in the emergency room and fantastic care.
3. Real Estate in Whitehorse
The average price of a house in Whitehorse is $506,707 as of February 2021. The chart below is from 2019 and shows an average price of $529,500 because this includes the sale of acreages and country residential property that sell for more money driving up the average sales price artificially for the cost of a house in Whitehorse. 
-House average price $495,800
-Condo average price $354,700
-Duplex average price $378,700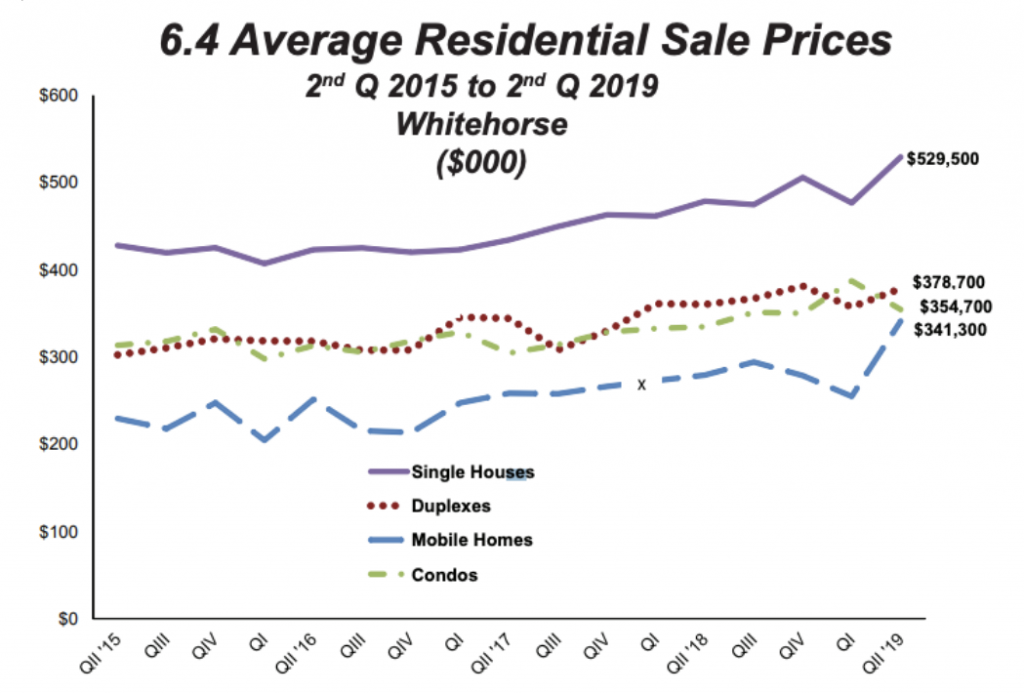 4. Tax-Deductible Vacations
Northern life has its benefits! This is a mind-blowing legitimate tax deduction and will make your southern friends jealous. Your employer may offer you this as a benefit, locals know it as Box 32 on your T4. The cost of your flight to Vancouver or Edmonton plus meals and your car rental is a tax-deductible expense. It's worth investigating! Talk to your accountant or read form T2222 from CCRA for the exact details. Google 'northern resident deductions.' 2018 CCRA link
Northern Living Allowance
Every resident is given an $11 a day northern resident allowance provided that you live in the Yukon for 6 consecutive months in a calendar year. Additionally, there is another $11 a day tax credit to cover housing expenses. In your first full year that you reside in the Yukon, a total tax deduction or $8030 a year plus the additional $11 a day for every member of your family. I'm not an accountant, but these are the basics. Live in Whitehorse!
5. Strong Economy
If finding a job in Whitehorse is holding you back from moving, then we have good news for you. Unemployment in the Yukon is at a record low. With an unemployment rate of 2.7 percent, the Yukon has the lowest recorded rate of unemployment in Canada!
Workers in the Yukon also receive higher wages and excellent benefits compared to the rest of the provinces in Canada. Yukon Stats
6. Seven Digit Dialling
When you call a local number, you don't need to enter the area code 867 to make a local call. For example – my phone number, realtor Scott Sauer Re/Max – 867.333.1095 When you call me, you only have to dial 333.1095, dialling the area code is not required when you live in Whitehorse! Old school but I love it! 
Ready to Start Exploring Housing in the Yukon?
Ready to make the big move to Whitehorse? I can help you find the perfect house and make your move to the Yukon simple. Let's get the ball rolling. Check out my listings to find your new home in the Yukon!
Call or text me directly 867.333.1095 Scott Sauer – Re/Max Action Realty, Whitehorse.