Mountain View Place is located 10 min from Downtown and is a condo development because there is a monthly fee paid for common area maintenance, $40.00. Most of the trailers in Mountain View were manufactured in the early '2000s with Arctic insulation upgrades making them less expensive to heat in the winter. The standard lots in Mountain View Place are 46′ wide and 91′ to 100' long, providing space for gardens and parking or the kids to play.
The neighbourhood is quiet and very family-friendly. The Whitehorse trail system connects all of the Citys neighbourhoods, and one of the more scenic trails runs along the back of Mountain View Place 
Range Point – Marwell Trail
. This trail follows the clay cliffs of the Yukon River and offers amazing views.
Pro Tips For Renovations
The city of Whitehorse has a handy brochure with bylaws for additions and arctic entries.
Save The CSA Sticker.
CSA stickers can make financing your home much easier.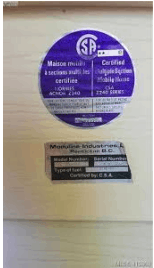 Home Information Sicker
Generally found on the inside of a kitchen cabinet door. This sticker will have in bold letters "Do Not Remove." The label has legal information for your home, manufacturer, year built, serial number, and many other specifications.