Exclusive access to ALL listings from all the real estate companies in real-time.
Water wells & Septic Fields FYI
Country Residential
Buying a home in the country means that you are responsible for your water and sewer. Most rural households have a well and septic field.
One overlooked cost to consider when looking at these homes is the outstanding LIC (Local Improvement Charge). The cost of drilling a well is added to the annual property tax and paid back over a 5, 10 or 15-year term. Ensure when you start to calculate the cost of your country home to enquire if the well is paid off. The Yukon government has produced a brochure outlining the program Yukon Water Well Program. 
Pro Tip 
Ask for the original drilling report to learn the
Flow Rate
Depth of the well
Static Level
Don't Forget wood burners need to be WETT inspected and propane tanks are rented from the supplier for a nominal yearly fee. 
Safe Drinking Water
The quality of the water can be tested at the Environmental Health Services Water Laboratory for free. Stop into the office at #2 Hospital Road, Whitehorse. They will provide you with a special flask to gather a water sample. Your water sample must be kept at cool but not below 10ºC and turned in within 24 hours. They will test your water for E. coli and total coliforms.
A well should be tested at least once a year and no matter when the current owner had the water tested, each purchaser should test the water for themselves. Well Water – Brochure.
Septic Fields or Septic Tanks 
These are the two approved methods of containing sewer waste. A site plan can be obtained from Yukon Environmental Health so that you know where the pipes run. Ensure to have any maintenance records of the system passed onto you when you buy your acreage in Whitehorse.
Country residential neighbourhoods
Driving Time From Whitehorse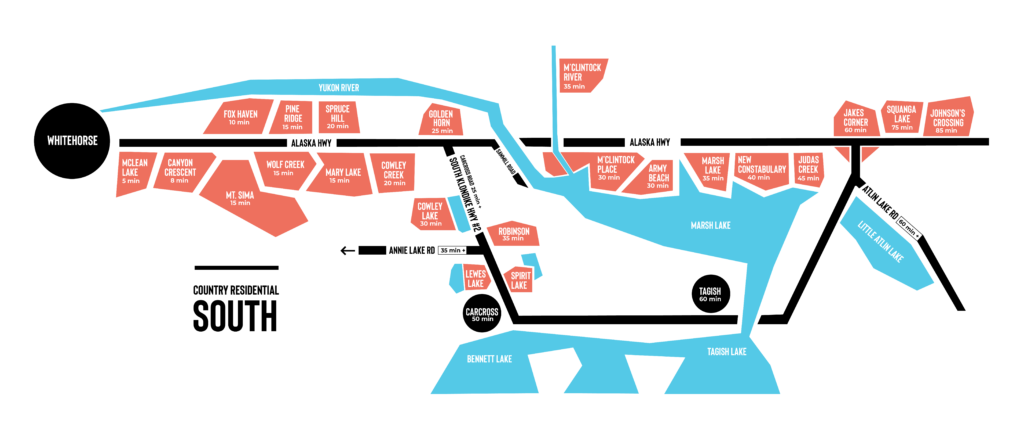 Canyon Crescent
Cowley Creek
Fox Haven
Mary Lake
McLean Lake
Mt. Sima -Whitehorse Copper
Spruce Hill
Wolf Creek
McCrae
Pineridge
Golden Horn
Carcross Road
Marsh Lake
Army Beach
Mclintock Place
McIntock River
Robinson
Annie Lake
Cowley Lake
Atlin Road
Judas Creek
Johnson's Crossing
New Constabulary
South Klondike
Highway
Squanga Lake
Mile 2
Fish Lake
Hidden Valley
Hot Springs Road
Ibex Valley
Pilot Mountain
Old Alaska Highway
Echo Valley
Deep Creek
Fox Lake
Grizzly Valley
Laberge
Mendenhall
North Klondike Highway
Yukon River